If you're looking for something unique, you'll find lots of surprises at THE CLOWN, including imported Tuscan Olive Oil, sauces and spreads from Piedmont, aged balsamic vinegars, as well as the latest cookbooks and fun home chef accessories.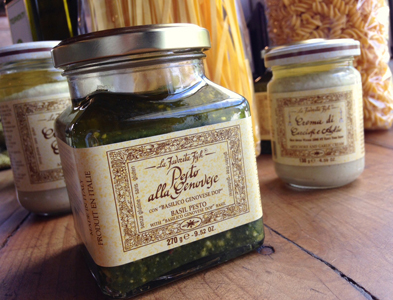 Sauces, spreads and pastas from La Favorita Live, Cuneo, Italy
All natural ingredients, no preservatives.
Tartufolio (White Truffle Oil), Pesto alla Genovese (Pesto), Pesto in Salsa ( Sun Dried Tomato Pesto), Crema di Carciofi (Artichoke Cream), Crema di Carciofi e Aglio (Artichoke and Garlic Cream), Carciofi alle Erbette (Artichokes with Herbs), Crema di Funghi Porcini (Porcini Mushroom Cream), Crema Olive Verdi (Green Olive Spread), Crema Olive Nero (Black Olive Spread), Cipolline all'Aceto Balsamico (Onions in Balsamic Vinegar of Modena), Sugo Antico (Red Sauce), Sugo Antico al Tartufo (Red Sauce with Truffle), Egg Pasta: Pappardelle, Tagliatelle, Tagliatelle Tartufo, Tajarin, Pennete
_________________________________________
Tramonti Tuscan Olive Oil: Coming back soon!
Extra Virgin, first pressing, cold-pressed, from Castellini in Tuscany, available in three sizes:
500 ml $20 750 ml $26 and 1 ltr $35 We can ship!
_________________________________________
Balsamic Vinegars and Salad Dressings from Manicardi of Modena, Italy
_________________________________________
Artisan Salami, Pancetta & Guanciale by
a small goods co.
Rockport Maine
Featured in Edible Maine Magazine
Whole hog salami, wild fermented on the Midcoast of Maine.
Salami: Ramp: wild ramp made with ramps wild crafted in Maine's northern woods. Hard Cider: made with cider and spent lees from Whaleback Hard Cidery in Lincolnville, Maine. Northern Spicebrush: aka Appalachian Allspice. A delicious shrub in the laurel family. native to north americ. Made with a blend of Heartstone Farm beef and Pork Belly. Basque-ish: espelette pepper and hard cider, made with a blend of Heartsone Farm beef and pork belly. Pancetta: Cider brined, cured on the bone and cultured with koji. Guanciale: Cider brined and cultured with koji
_________________________________________
ParmCrisps made from 100% Aged Parmesan
and Artisan Brewfest Crackers by Redbarn of Vermont
_________________________________________
New! Artisan Chocolates by PR Craft Confections
We are thrilled to introduce these small batch crafted, artisan chocolate bars, and a boxed 5-piece chocolate assortment (including caramels!). Made in Portland, Maine, using premium Venezuela cacao and Maine ingredients, and wrapped in a custom designed paper wrapping.